Sheffield Assay Office provides awards for SYCF's first ever Community Champion Awards
Published: 11th September 2019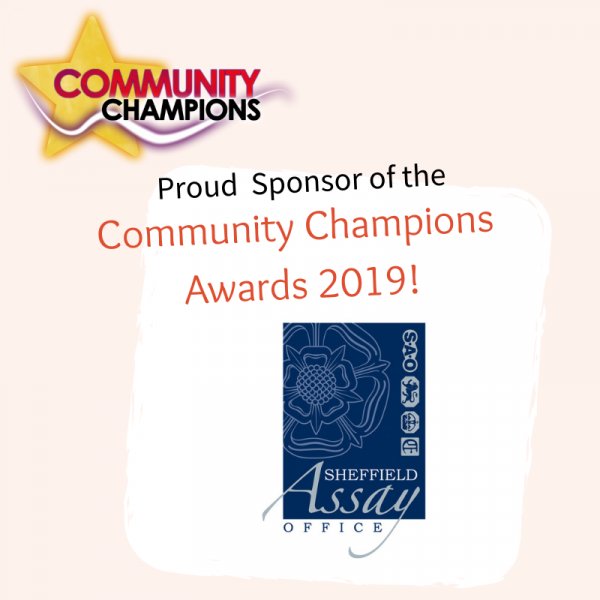 Sheffield Assay Office are providing the awards for the first-ever Community Champions Awards event.
The awards are a celebration of the local heroes who too often go unrecognised for their extraordinary efforts helping people in their community. Established by local charity, South Yorkshire's Community Foundation (SYCF) and BBC Radio Sheffield, the awards aim to shine a light on the good work being done across South Yorkshire and North Derbyshire.
Ruth Willis, Chief Executive of SYCF said:
"The awards have really blossomed from a joint passion for telling local stories between SYCF and BBC Radio Sheffield. At SYCF we work with some incredible individuals and organisations through our charitable work. Each of those people and groups has an inspirational story to tell and the awards have given us a way to tell those stories. We want to inspire people and to motivate them to go out and do even more good in their communities."
Of the 350 nominations submitted, 24 finalists have been chosen for eight different awards including the top award of 'Outstanding Champion'. The winners will be announced at the awards ceremony on the 3rd October at Sheffield Cathedral.
From litter picking volunteer groups to human rights advocacy, the diverse range of work being done by the finalists shows just how dedicated the people that call South Yorkshire and North Derbyshire home are to helping each other in whatever way they can.
Ruth Willis continued:
"We deserve a big celebration event for our region and to make a fuss of our finalists!
"The response we have had to the awards has been overwhelmingly positive and the support we have had has been wonderful. I want to especially give a big thank you to all our sponsors, partners and of course to the team at BBC Radio Sheffield. None of this would be possible without your help."
---
The Sheffield Assay Office was established in 1773, under an Act of Parliament and today the company assays and hallmarks the precious metals - silver, gold, platinum and palladium. Sheffield Assay Office is one of only four UK assay offices who all work to uphold the Hallmarking Act of 1973 and continue to ensure consumer protection for customers purchasing precious metals.
To find out more about the whole range of services offered by Sheffield Assay Office, such as our hallmarking and analytical services, please email us at info@assayoffice.co.uk or complete the contact form on our website at http://www.assayoffice.co.uk/contact-us,
Sign up here to all the latest news from Sheffield Assay Office direct to your inbox