Sheffield Museums calls on public following break-in at Kelham Island Museum
Published: 19th May 2023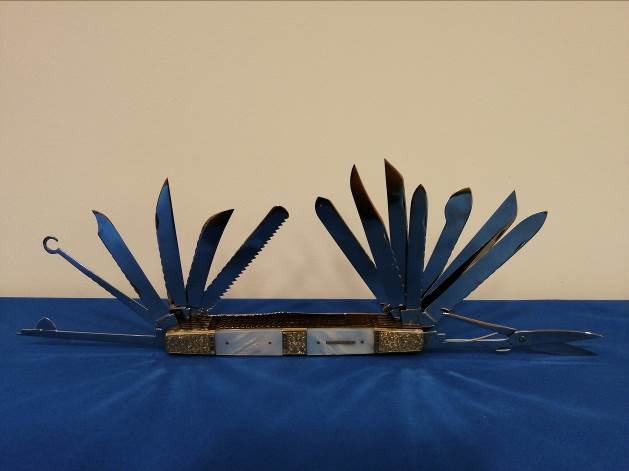 Sheffield Museums are calling on the public for their help in recovering several items relating to metalworking in the city following a burglary at Kelham Island Museum on Sunday 14 May.
The 12 stolen objects include items on loan from Sheffield Assay Office and those featured in displays created by the Ken Hawley Collection Trust, which is based at the museum.
A 104-blade exhibition knife (1800) made by Greenhough.
A 14-blade display knife made from 14 carat gold, stainless steel and mother of pearl (1987) by Stan Shaw.
A multiblade knife with horn scales made by Stan Shaw.
A multiblade knife made by Steven Cocker using Joseph Rodger pattern.
A folding knife with 9 carat gold scales (1904) made by William Needham.
A folding knife with tortoise shell scales and gold decoration (1800s) made by Taylor's Eye Witness.
A sterling silver coffee pot made (1773) by Matthew Fenton, Richard Creswick and William Watson.
A sterling silver tea kitchen caddy (1774) made by John Rowbotham and Co.
Four sculptures – of a Duckling, a Heron, a Dragonfly and a Kingfisher – made by Jason Heppenstall from stainless steel cutlery.
Sheffield Museums, the charity which runs Kelham Island Museum alongside Abbeydale Industrial Hamlet, Graves Gallery, Millennium Gallery, Shepherd Wheel Workshop and Weston Park Museum, are appealing to the public for help in recovering the stolen items.
South Yorkshire Police want to hear from anybody who may have information about the burglary, or may have seen the items for sale online or in person. If you have any information, please contact them using live chat, their online portal or by calling 101 quoting incident number 193 of 14 May 2023. Access live chat and our online portal here: smartcontact.southyorkshire.police.uk
Alternatively, if you prefer not to give your personal details, you can stay anonymous and pass on what you know by contacting the independent charity Crimestoppers. Call their UK Contact Centre on freephone 0800 555 111, or complete a simple and secure anonymous online form at crimestoppers-uk.org.
Kim Streets, Chief Executive of Sheffield Museums Trust, says:
'We're deeply saddened by the break-in at Kelham Island Museum over the weekend, which appears to have been a carefully planned theft.'
'Like museums across the country, we care for the objects entrusted to us and work with our partners and communities to celebrate the remarkable feats of innovation, creativity and excellence they represent. The historical significance of these items goes far beyond any financial value they hold. They span one of the first objects hallmarked by Sheffield Assay Office to knives made by one of our last Little Mesters, the much-missed Stan Shaw, and are irreplaceable touchstones of Sheffield's rich heritage.'
'Some of these items are likely to find their way onto the market and are very distinctive. We're appealing to the public to be vigilant and to share any information they have that might aid their recovery with South Yorkshire Police.'
Ashley Carson, Assay Master, Sheffield Assay Office, says:
'I am devastated to hear this very sad news. Once again, similar to the Assay Office break-in earlier this year, the articles stolen do not have any real sell on value. To Sheffield Museums and the stories they celebrate, these represent a far wider loss and are totally irreplaceable. I would also like to appeal to anyone who has any information that may lead to the recovery of these items to please come forward and assist the police. This is the latest in a string of robberies in the city and these criminals need to be stopped.'
Keith Crawshaw, Chair, Ken Hawley Collection Trust, says:
'Ken Hawley was dedicated to ensuring Sheffield's rich heritage of making things was preserved and made available to a wider audience to enjoy. The thefts have taken away some important and irreplaceable elements of the city's heritage and deprives us all from enjoying and recognising the skills of ordinary working people. For some of the items there is much sentimental value lost as well.'
Click here for more information on the stolen items
---
The Sheffield Assay Office was established in 1773, under an Act of Parliament and today the company assays and hallmarks the precious metals - silver, gold, platinum and palladium. Sheffield Assay Office is one of only four UK assay offices who all work to uphold the Hallmarking Act of 1973 and continue to ensure consumer protection for customers purchasing precious metals.
To find out more about the whole range of services offered by Sheffield Assay Office, such as our hallmarking and analytical services, please email us at info@assayoffice.co.uk or complete the contact form on our website at http://www.assayoffice.co.uk/contact-us,
Sign up here to all the latest news from Sheffield Assay Office direct to your inbox