Sixty local businesses in breach of Hallmarking Act. Are you?
Published: 21st July 2021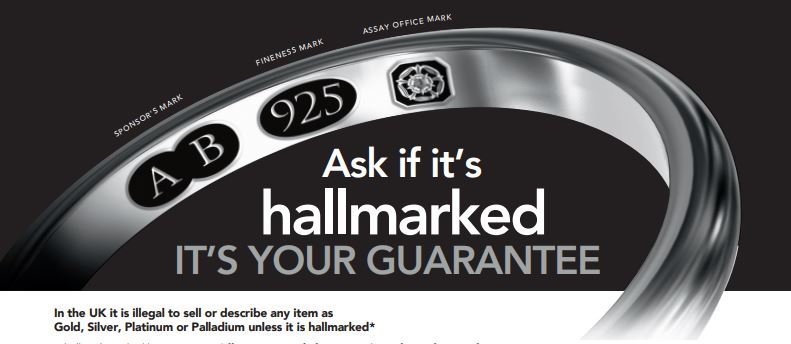 Staff from Sheffield Assay Office recently conducted an investigation looking at local traders, to see just how many are trading illegally by not displaying the up to date Dealers Notice in their store or on their website.
Earlier this year we visited traders within a 25 mile radius of Sheffield and found nearly fifty businesses that were in breach of the Hallmarking Act. Having now expanded the investigation to cover a 30 mile radius we found a further 60 local traders who are currently trading illegally and risking prosecution.
Section 11 of the Hallmarking Act states that "All businesses supplying precious metal jewellery must display the "Dealer's Notice" in a prominent position within their retail outlet including those businesses trading online, where you must either display the notice or have a clear link where customers can access it."
Sheffield Assay Master, Ashley Carson said "I can't stress enough the importance of this legal obligation. If you have a business that describes or sells an article as Gold, Silver, Platinum or Palladium then by law you must display the current 'Dealers Notice' in a prominent place for all customers to see. We would hate for any local businesses, especially those who are registered customers of Sheffield Assay Office, to be caught out by Trading Standards and suffer prosecution, and I'm delighted to say that the majority of businesses contacted so far have responded by very quickly rectifying the situation".
Version 8/2019 is currently the only legally recognised notice. A copy is available, free of charge, in pdf format from our website, which can be used for display in online shops or can be printed off to be displayed at a traders premises.
If printed from our website, the Dealer's Notice must be:
Printed in black and white
Clearly legible
Printed in its entirety with no amendments, additions or deletions
Printed a minimum A4 size (210 x 297mm) portrait but can be larger if required
A glossy hard card version can also be purchased from us at a cost of £15 + £3 post and packaging + VAT, by emailing us on info@assayoffice.co.uk.
Click here to download a free copy of the latest Dealers Notice
---
The Sheffield Assay Office was established in 1773, under an Act of Parliament and today the company assays and hallmarks the precious metals - silver, gold, platinum and palladium. Sheffield Assay Office is one of only four UK assay offices who all work to uphold the Hallmarking Act of 1973 and continue to ensure consumer protection for customers purchasing precious metals.
To find out more about the whole range of services offered by Sheffield Assay Office, such as our hallmarking and analytical services, please email us at info@assayoffice.co.uk or complete the contact form on our website at http://www.assayoffice.co.uk/contact-us,
Sign up here to all the latest news from Sheffield Assay Office direct to your inbox