Assay Master Speaks at SHU Art & Design Prize Winners Ceremony
Published: 14th January 2021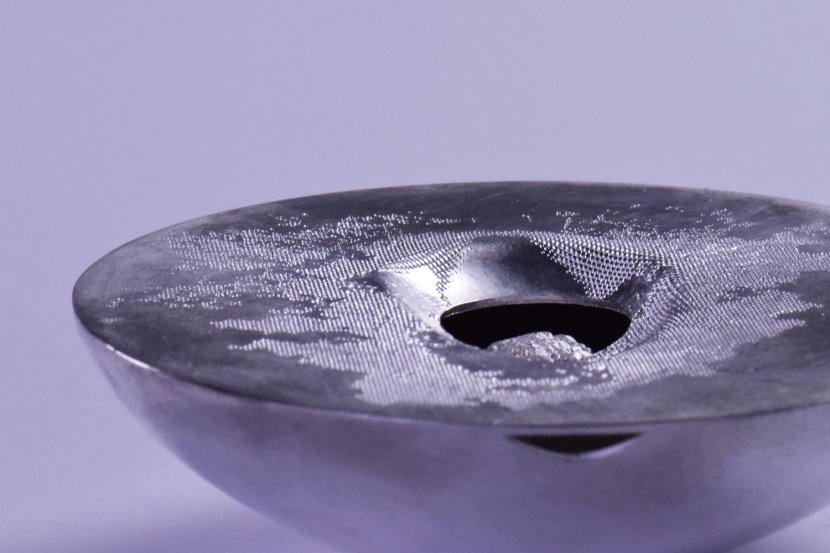 Piece by Amber Stephen
The Assay Master, Ashley Carson said it was a privilege to speak, on Tuesday 12th January, at the Virtual Prize Winners Ceremony and was delighted to have been asked by Roger Bateman, Head of Department of Art and Design.
The Assay Master said that 2020 has been a different kind of year for all. It was with regret that Sheffield Assay Office had been unable to provide the usual tour of the premises for the students and staff, but felt more than ever how important it was to show support for the future of the disciplines to continue sponsorship and support graduates. "I wish to thank not only the students for their dedication and commitment to their course/s and persevering despite the changes and challenges this year has brought to you all in the way you learn. I also want to thank the tutors and staff who have worked so hard to continue to deliver content in person and remotely to the students in the UK and worldwide."
The online degree show launched in November 2020 and it was very clear to see that the quality and calibre of work produced this year by the students from the Department of Art and Design, was full of imagination and shows exceptional creativity and skill.
Despite the global pandemic and business challenges, Sheffield Assay Office has continued to be committed to sponsoring and supporting the Jewellery, Material and Design degree programs during 2020/21. In this the 25th year of continued sponsorship, Ashley commented "where else can you think of where companies sponsor for this length of time? Sponsorship, whether it is Formula One, Football, Golf, West End Shows, Sports Stars, it all comes and goes, but for me it is not just about receiving advertising and profile, in my opinion it is about making a difference, getting involved and commitment to the cause, which ultimately leads to satisfaction and seeing success as we are indeed celebrating today. I can honestly say that every one of those criteria I have highlighted is still being met year on year and this still separates Sheffield Hallam University from any other."
For the academic year 19/20 Sheffield Assay Office sponsored BA students £2000 in monetary terms. In 2021 a further £1000 will be allocated to MA and MFA students. Sheffield Assay Office were delighted to provide three Level 6 bursaries (Class of 2020) to Amber Stephen, Silversmith, Wenwen Yang, Jeweller, Danielle Ward, Jeweller and Sheffield Assay Office look forward to seeing the fruits of their labour at New Designers in 2021.
A further four bursaries were also awarded to students due to finish in May 2021. These were for Jewellery and Silversmithing and congratulations were given to Zsofia Nagy, Jeweller, Emily Duckering, Silversmith, Aiyi Zhang, Jeweller and Xuchao Wang-Carina, Jeweller.
Finally, Ashley Carson wished all the students well with their future careers and to stay in touch with the Assay Office and Sheffield Hallam University, he said "I and Sheffield Assay Office are delighted to have supported these students and to see the high quality of work that has been produced on all programmes from the department. The work spans many subjects and is most thought provoking. I highly recommend, if you haven't seen the work already, do take a look via the Sheffield Hallam University online exhibition."
---
The Sheffield Assay Office was established in 1773, under an Act of Parliament and today the company assays and hallmarks the precious metals - silver, gold, platinum and palladium. Sheffield Assay Office is one of only four UK assay offices who all work to uphold the Hallmarking Act of 1973 and continue to ensure consumer protection for customers purchasing precious metals.
To find out more about the whole range of services offered by Sheffield Assay Office, such as our hallmarking and analytical services, please email us at info@assayoffice.co.uk or complete the contact form on our website at http://www.assayoffice.co.uk/contact-us,
Sign up here to all the latest news from Sheffield Assay Office direct to your inbox