Assay Office attends Sheffield Hallam University Design Exhibition
Published: 31st January 2020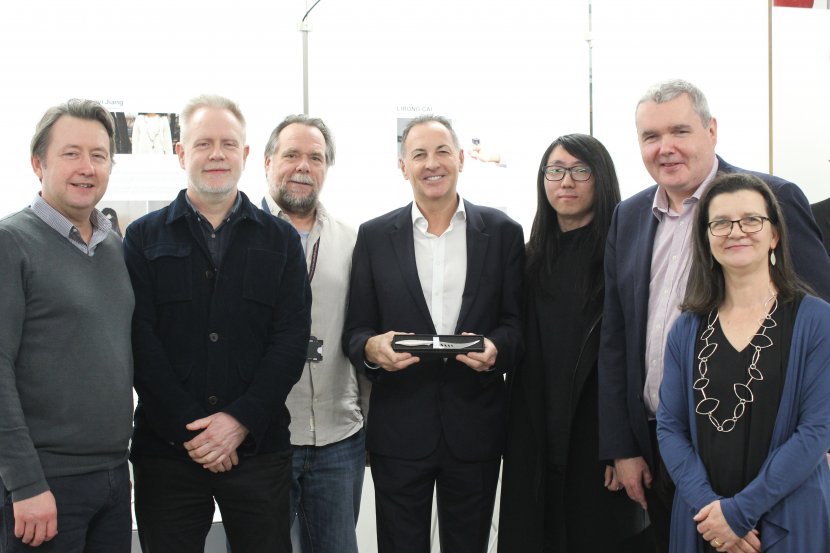 On Tuesday 21st January, the team at Sheffield Assay Office were delighted to attend a preview of 'In Transit 2020', Sheffield Hallam University's MA and MFA design exhibition.
'In Transit' showcased MA work from Design students in Fashion, Graphics, Illustration, Interior, Jewellery and Metalwork. The evening was a great opportunity to meet the design makers and view a rich and diverse set of projects, all of which represented a range of socially engaging and meaningful areas of exploration.
Course Leaders Maria Hanson and Chris Knight both gave speeches and congratulated students on their work and on their completion of the degree programme.
Sheffield Assay Master, Ashley Carson, was thanked for his continued support of the Jewellery and Metalwork degree programmes and it was noted that 2020 marked a special milestone, a silver anniversary of 25 years of continued support from the Assay Master and Sheffield Assay Office.
Dai Wenchao, student at SHU, presented the Assay Master with a gift to thank him for his support. The piece presented was a knife designed and crafted from steel, silver plate and gilding metal, and was named "Performance".
The Assay Master was delighted with his gift and commented "this is the first knife I have had made by a student at Sheffield Hallam University. I look forward to adding this to my collection".
He spoke of the Assay Office's partnership with the university, saying "supporting the degree programme in Jewellery and Metalwork has been a great privilege and the quality of the work produced by the students has continued to grow year on year."
​
---
The Sheffield Assay Office was established in 1773, under an Act of Parliament and today the company assays and hallmarks the precious metals - silver, gold, platinum and palladium. Sheffield Assay Office is one of only four UK assay offices who all work to uphold the Hallmarking Act of 1973 and continue to ensure consumer protection for customers purchasing precious metals.
To find out more about the whole range of services offered by Sheffield Assay Office, such as our hallmarking and analytical services, please email us at info@assayoffice.co.uk or complete the contact form on our website at http://www.assayoffice.co.uk/contact-us,
Sign up here to all the latest news from Sheffield Assay Office direct to your inbox