Award Winning Designer, Lucy Quartermaine, Chooses Sheffield Assay Office
Published: 12th May 2022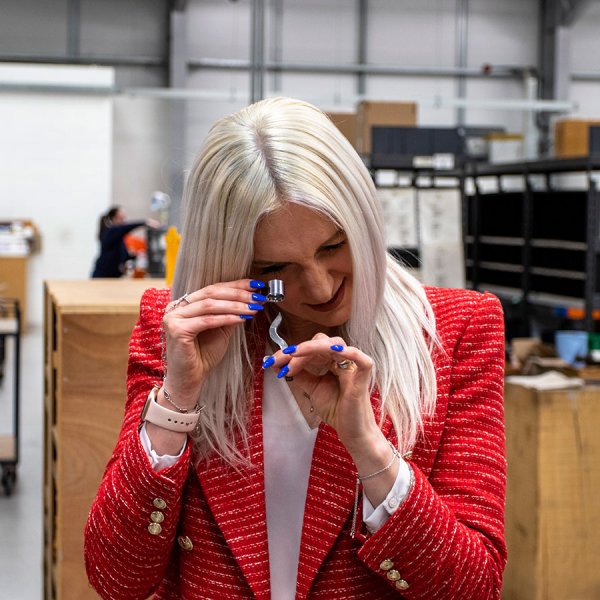 The Sheffield Assay Office team were delighted to welcome celebrated jewellery designer, Lucy Quartermaine, to Sheffield recently.
Named 'UK Jewellery Designer of the Year' twice in a row as well as 'Top Woman in Business' for the North West, Lucy was keen to visit Sheffield Assay Office to meet with Assay Master, Ashley Carson, and learn the workings of the hallmarking process and was delighted to find out that that many years ago the town of Chester, the location of her unique jewellery boutique, had had its very own Assay Office and mark.
Ashley Carson said "The Chester Assay Office closed its doors in 1962. Since then the Town Mark, which has three wheatsheaves and a sword in a shaped shield, has remained dormant. Although no longer a Hallmark this mark can be added alongside a current Hallmark as long as it is double spaced away to avoid confusion with a current UK Hallmark. It is great that Lucy has chosen to add the Town Mark as a company based in Chester and that she is proud of the history of both the Chester Assay Office and Hallmarking."
The Assay Office team are delighted that Lucy has decided to use Sheffield for all her hallmarking requirements and look forward to working with her and her colleagues.
Discover the unique Lucy Quartermaine Boutique in the heart of Chester at The Old Coach House, 8 Garden Lane CH1 4EN or visit www.lucyqdesigns.co.uk
---
The Sheffield Assay Office was established in 1773, under an Act of Parliament and today the company assays and hallmarks the precious metals - silver, gold, platinum and palladium. Sheffield Assay Office is one of only four UK assay offices who all work to uphold the Hallmarking Act of 1973 and continue to ensure consumer protection for customers purchasing precious metals.
To find out more about the whole range of services offered by Sheffield Assay Office, such as our hallmarking and analytical services, please email us at info@assayoffice.co.uk or complete the contact form on our website at http://www.assayoffice.co.uk/contact-us,
Sign up here to all the latest news from Sheffield Assay Office direct to your inbox