Celebrating Sheffield's Women Silversmiths
Published: 20th April 2021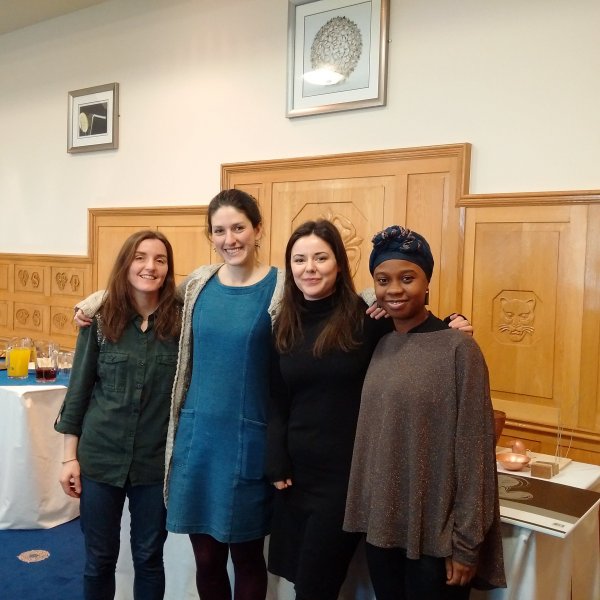 Today's generation of women silversmiths - Suzanne, Daisy, Aoife and Fran.
During International Women's Week earlier this year, Emma Paragreen, Curator here at Sheffield Assay Office joined forces with Sheffield Museums to deliver an online talk, sharing some fascinating stories of Sheffield's female silversmiths throughout the years.
Emma discussed her work at Sheffield Assay Office and delved into the company archives, speaking of the first registered silversmith Elizabeth Middleton in 1773 and of work by contemporary silversmiths in the city today.
If you missed the live stream on the Facebook page on the 11th March 2021, you can now watch the talk in full on the Sheffield Museums website, as well as on YouTube.
Speaking of the online event, Emma said; 'The talk has proved to be a huge success and a really great way to share the collections with others during lockdown. Thank you to Jess Shipton, Lucy Cooper and Sian Brown at Sheffield Museums for making this possible with the display in 2020 "She wields the hammer" and the live talk. We very much look forward to displaying and promoting the new commissions in May by Helena Russell, Abigail Asher and Holly Clifford.'
The talk also received some great feedback from those who participated. Judith Smith, Project Officer at Hawley Tool Collection said; 'It was a really interesting talk and I loved the contemporary pieces, I will certainly look out for them when they go on display at Millennium Gallery.'
Lynne Bartlet from the Association for Contemporary Jewellers thanked both Emma and Sheffield Museums for the talk saying; 'Fascinating talk. Especially intriguing about the early women silversmiths, thank you.'
Click here to watch the talk in full
---
The Sheffield Assay Office was established in 1773, under an Act of Parliament and today the company assays and hallmarks the precious metals - silver, gold, platinum and palladium. Sheffield Assay Office is one of only four UK assay offices who all work to uphold the Hallmarking Act of 1973 and continue to ensure consumer protection for customers purchasing precious metals.
To find out more about the whole range of services offered by Sheffield Assay Office, such as our hallmarking and analytical services, please email us at info@assayoffice.co.uk or complete the contact form on our website at http://www.assayoffice.co.uk/contact-us,
Sign up here to all the latest news from Sheffield Assay Office direct to your inbox