Company of Master Jewellers attend Networking and Development Day at Sheffield Assay Office
Published: 16th March 2020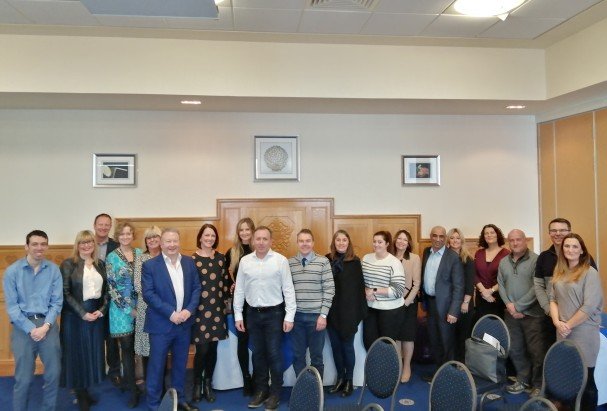 Here at Sheffield Assay Office, we were delighted to host The Company of Master Jewellers on Thursday 12th March, for one of their Networking and Development days.
The CMJ is a group comprised of a diverse mix of jewellers – from established family-owned businesses to dynamic contemporary retail stores. 20 members were welcomed by the Sheffield Assay Office team and given an introduction to the historic company, followed by a tour of the state of the art facilities.
The event was a huge success and those in attendance relished the opportunity to tour the premises and take a look behind the scenes of an Assay Office. Several of the jewellers commented that, despite working within the trade for so long, they were shocked to have learned so many new facts and were delighted to have received such useful information about hallmarking and the law that they would take back to their places of work.
Following the morning session the group enjoyed a delicious lunch in the library supplied by PJ Taste. Andy Hanselman of Hanselman Consultancy joined them in the afternoon for a further networking session.
If you'd like to find out more about visiting the state of the art facilities at Sheffield Assay Office or to arrange one of our Tours & Talks, just click here.
---
The Sheffield Assay Office was established in 1773, under an Act of Parliament and today the company assays and hallmarks the precious metals - silver, gold, platinum and palladium. Sheffield Assay Office is one of only four UK assay offices who all work to uphold the Hallmarking Act of 1973 and continue to ensure consumer protection for customers purchasing precious metals.
To find out more about the whole range of services offered by Sheffield Assay Office, such as our hallmarking and analytical services, please email us at info@assayoffice.co.uk or complete the contact form on our website at http://www.assayoffice.co.uk/contact-us,
Sign up here to all the latest news from Sheffield Assay Office direct to your inbox