Designs on Silver & The Golden Touch: Upcoming Exhibitions
Published: 20th April 2021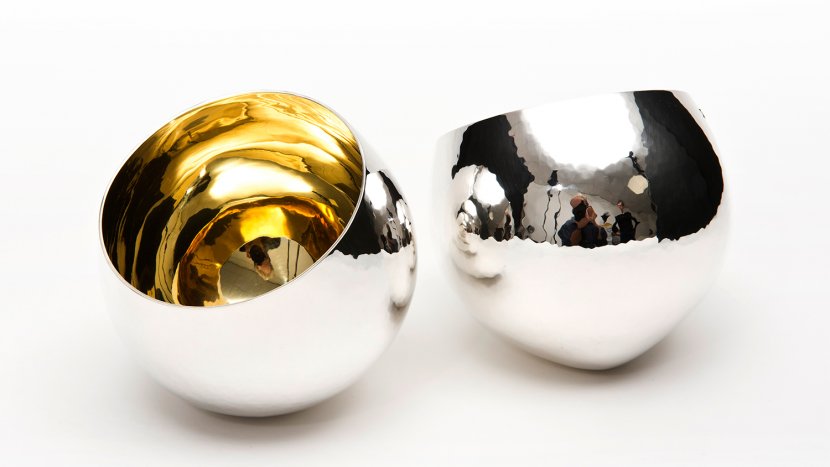 Piece by Charlotte Tollyfield
Designs on Silver, The Golden Touch and The Brooch Unpinned are three interesting exhibitions taking place at The Goldsmiths Company, The Scottish Gallery and The Goldsmiths centre over the coming months.
Designs on Silver - The Goldsmiths Company
Designs on Silver is a new display in the Exhibition Room in Goldsmiths' Hall. Goldsmiths' Company Curator, Dr Dora Thornton discusses a range of design drawings that are shown alongside the objects they inspire, offering an insight into the creative process of each designer.
Find out more about Designs on Silver
The Brooch Unpinned - The Goldsmiths Centre
Running from 9am - 5pm until June 30th, 'The Brooch Unpinned', exhibition and online events programme, celebrates the art of the brooch and the dynamic relationships it creates – between maker and wearer and between wearer and viewer. It explores a selection of British brooches from the Goldsmiths' Company's unique jewellery collection, tracing the evolution of contemporary design in this most wearable and revealing of accessories.
Find out more about The Brooch Unpinned
Jacqueline Mina: The Golden Touch - The Scottish Gallery
Taking place at The Scottish Gallery from April 1st - Apr 24th, The Golden Touch celebrates the work of eminent jeweller, goldsmith and art educator Jacqueline Mina. Jacqueline's technical brilliance, allied with her strong artistic curiosity has resulted in a range of sensuous, understated work, which has a rare aesthetic presence in the field of contemporary gold jewellery.
Find out more about The Golden Touch
---
The Sheffield Assay Office was established in 1773, under an Act of Parliament and today the company assays and hallmarks the precious metals - silver, gold, platinum and palladium. Sheffield Assay Office is one of only four UK assay offices who all work to uphold the Hallmarking Act of 1973 and continue to ensure consumer protection for customers purchasing precious metals.
To find out more about the whole range of services offered by Sheffield Assay Office, such as our hallmarking and analytical services, please email us at info@assayoffice.co.uk or complete the contact form on our website at http://www.assayoffice.co.uk/contact-us,
Sign up here to all the latest news from Sheffield Assay Office direct to your inbox