Employee celebrates making his mark at Sheffield Assay Office
Published: 6th June 2019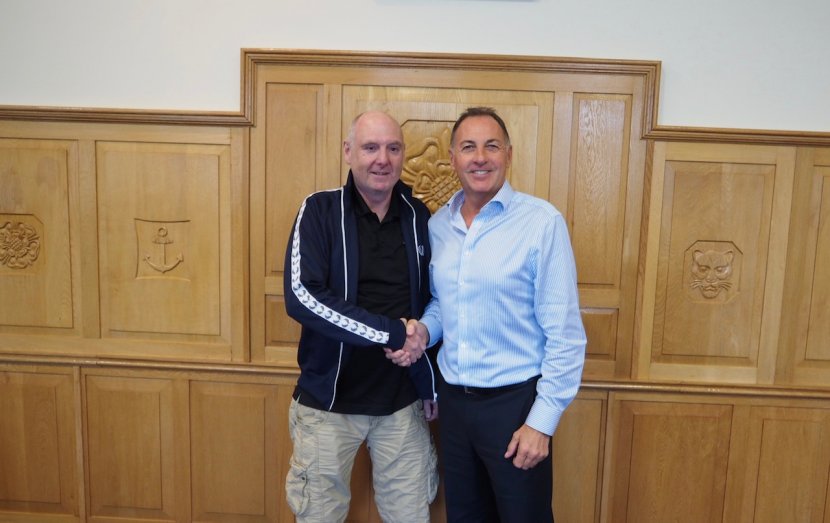 A dedicated employee celebrated making his mark at the Sheffield Assay Office during his 40-year career at an event held in his honour.
Conal Grant joined the prestigious silversmiths in 1979 age 16 and dedicated his career to hallmarking. The hallmark is a quality mark which indicates what the metal is, who made it, where it was assayed and in which year.
Sheffield Assay Master, Ashley Carson, thanked Conal for his service at a surprise anniversary party at the Assay Office at Guardian's Hall in Hillsborough on 4 June. The event was attended by Conal's colleagues, mother, brother and sister-in-law.
Conal, 56, said: "The event to celebrate me working for the Sheffield Assay Office for 40 years – all my adult life – was a real surprise and an honour. I've always felt proud to be a hallmarker and it means a lot to be recognised in this way and for my family to share the occasion too.
"I have very much enjoyed working for the company and with so many different characters over the years means it's always been interesting and rewarding. It has also been fascinating to see the different ways we now test and hallmark in comparison to when I first started working at the Assay Office, especially the XRF and laser marking machines.
"Another highlight has been seeing the company move to our new premises in 2008 after working at the old building for 29 years."
Conal, of Bents Green in Sheffield, is deaf but has never allowed his disability to hold him back.
Ashley commended Conal for always being "reliable, hardworking and a conscientious loyal worker" during his speech.
He added: "Conal joined us straight from school at a time when James Bond was on our screens in Moonraker, Jimmy Carter was the US President and Maggie Thatcher was the UK's Prime Minister. We were watching Mork and Mindy and Dallas on TV and it seems like a lifetime ago.
"In the 40 years Conal has worked for us, he has seen many changes and obviously started off working at Portobello Street in the city centre, moving to Beulah Road in 2008. He has worked for six Chairmen, three Law Clerks and two Assay Masters, which is quite an achievement.
"We're really proud of all our employees but especially those like Conal who have become part of our extended work family here at the Sheffield Assay Office. We are really pleased to be able to thank him for his long service and hopefully he will be an inspiration to others interested in joining us in future."
Ashley presented Conal with a £100 gift voucher to spend at his favourite golf store, American Golf.
---
The Sheffield Assay Office was established in 1773, under an Act of Parliament and today the company assays and hallmarks the precious metals - silver, gold, platinum and palladium. Sheffield Assay Office is one of only four UK assay offices who all work to uphold the Hallmarking Act of 1973 and continue to ensure consumer protection for customers purchasing precious metals.
To find out more about the whole range of services offered by Sheffield Assay Office, such as our hallmarking and analytical services, please email us at info@assayoffice.co.uk or complete the contact form on our website at http://www.assayoffice.co.uk/contact-us,
Sign up here to all the latest news from Sheffield Assay Office direct to your inbox