Event: New EU Regulatory Requirements - Changes and Challenges
Published: 16th May 2019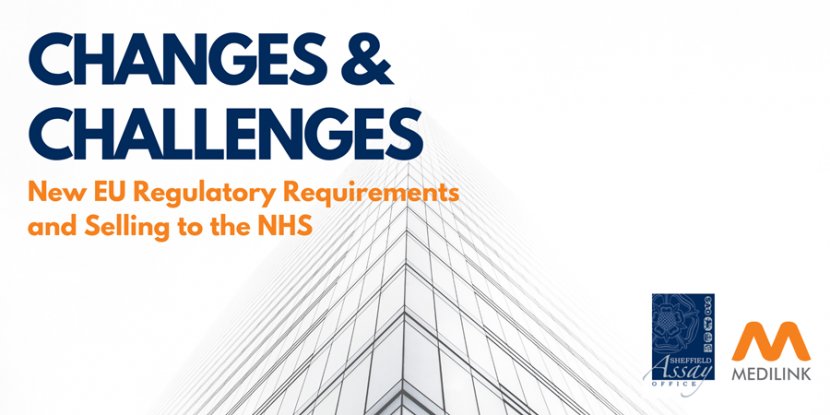 Are you interested in learning about the changes and challenges of the new EU MDR/IVDR regulatory requirements and selling into the NHS?
Join us, Sheffield Assay Office, and Medilink North of England for a special joint event aimed at business owners and professionals keen to learn more about 'Regulation', 'Selling to the NHS' and the role of 'Intellectual Property'. This FREE event takes place here at Guardians Hall and will introduce delegates to our Analytical Services Division, which helps companies in professional testing around developing new products in healthcare.
Enjoy a tour of the building known for hallmarking and excellence before hearing from 3 superb speakers covering topics that will assist organisations in making health technology safe, compliant and selling it into the NHS. Looking at the current climate of the healthcare sector, and forward to what changes we can expect with Brexit, regulatory requirements and IP.
We welcome healthcare professionals from across the region to join us and Medilink NOE for an informative and engaging morning of talks and discussions that can make a real difference to your business.
Our guest speakers include:
Frazer Bye, Patent Attorney - HGF
David Ashworth, CEO - Flintloque Management Systems Ltd
George Anderson, Head of Contracts (Clinical) - Leeds Teaching Hospitals NHS Trust
To find out more about the whole range of services offered by Sheffield Assay Office or to find out more about any of our upcomin events, please email us at info@assayoffice.co.uk or complete the contact form on our website at http://www.assayoffice.co.uk/contact.
---
The Sheffield Assay Office was established in 1773, under an Act of Parliament and today the company assays and hallmarks the precious metals - silver, gold, platinum and palladium. Sheffield Assay Office is one of only four UK assay offices who all work to uphold the Hallmarking Act of 1973 and continue to ensure consumer protection for customers purchasing precious metals.
To find out more about the whole range of services offered by Sheffield Assay Office, such as our hallmarking and analytical services, please email us at info@assayoffice.co.uk or complete the contact form on our website at http://www.assayoffice.co.uk/contact-us,
Sign up here to all the latest news from Sheffield Assay Office direct to your inbox