Assay Office Guardian Says 'I Do' to Hallmarking
Published: 17th March 2021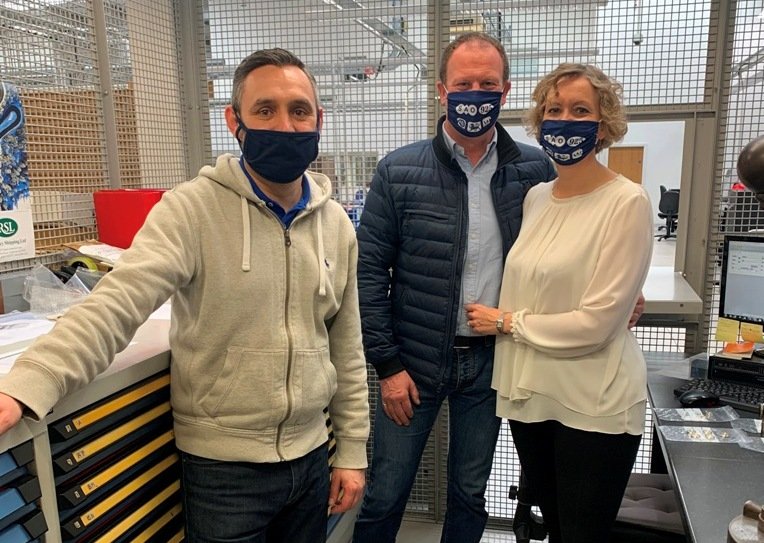 Sheffield Assay Office Guardian, Helen Dimmick and her partner Phil recently visited our Hallmarking team to mark their own wedding bands ahead of their big day.
Helen chose a 2.5mm recycled platinum band while her husband-to-be opted for a 6mm court 18ct Fairtrade yellow gold ring, both made by the couple's good friends at Domino Jewellery.
Danny Smith is Hallmarking Production Manager here at Sheffield Assay Office and he was delighted to help the couple with this special task. As Helen's ring was so slim, Danny advised that Laser Marking would be best - but the couple enjoyed the best of both worlds, as Phil's ring was marked traditionally by hand.
The sponsor mark is AAS – A Ainsworth and Sons. Phil's business which is 150 years old!
Speaking of the day, Helen said; "We had the most wonderful day, it was fantastic to see everyone again and to socially distance and catch up with all. We are very grateful to Ashley for making this possible for us and we loved the honour of having Danny hallmark our wedding rings."
---
The Sheffield Assay Office was established in 1773, under an Act of Parliament and today the company assays and hallmarks the precious metals - silver, gold, platinum and palladium. Sheffield Assay Office is one of only four UK assay offices who all work to uphold the Hallmarking Act of 1973 and continue to ensure consumer protection for customers purchasing precious metals.
To find out more about the whole range of services offered by Sheffield Assay Office, such as our hallmarking and analytical services, please email us at info@assayoffice.co.uk or complete the contact form on our website at http://www.assayoffice.co.uk/contact-us,
Sign up here to all the latest news from Sheffield Assay Office direct to your inbox