HALO Award 2022 - Get Creative With Your Hallmarking Awareness
Published: 27th May 2022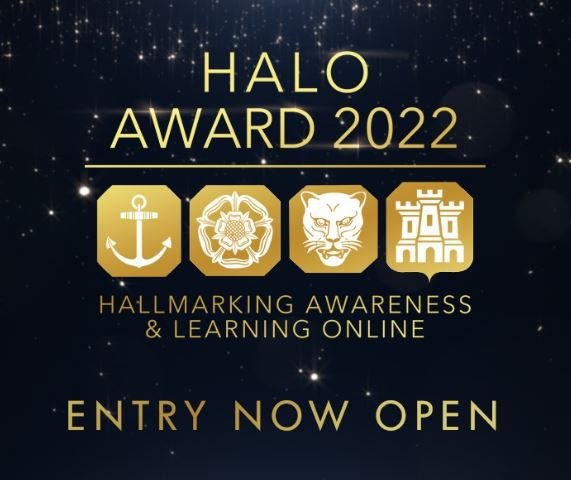 To help promote the importance of hallmarks, the British Hallmarking Council, along with the four UK Assay Offices, have created a new initiative - the Hallmarking Awareness & Online Learning award.
The HALO Award - What does it involve?
Launched at the end of 2021 in conjunction with a new Digital Dealer's Notice, the award encourages all retailers to review their online hallmarking information, raise the profile of hallmarks and introduce the graphic and other appropriate information across their online space.
How will it be judged?
The award will be won by the most creative and effective online initiative relating to the display of the new Dealer's Notice, as well as any further information showcasing the importance of hallmarks in the UK.
What do the winners receive?
In addition to increased sales through clearer messaging, the HALO prize will include:
A magnificent silver salver, to be held for one year and a year's subscription to the Assay Assured scheme
Digital assets to share your success across marketing channels as "Winner of HALO Award 2022 for online excellence in consumer protection"
National recognition and PR across BHC/NAJ print and online coverage
Applications close 1st August 2022
Find out more about the Digital Dealer's Notice and the HALO Award here
---
The Sheffield Assay Office was established in 1773, under an Act of Parliament and today the company assays and hallmarks the precious metals - silver, gold, platinum and palladium. Sheffield Assay Office is one of only four UK assay offices who all work to uphold the Hallmarking Act of 1973 and continue to ensure consumer protection for customers purchasing precious metals.
To find out more about the whole range of services offered by Sheffield Assay Office, such as our hallmarking and analytical services, please email us at info@assayoffice.co.uk or complete the contact form on our website at http://www.assayoffice.co.uk/contact-us,
Sign up here to all the latest news from Sheffield Assay Office direct to your inbox