Inspiring Awards Night Celebrates Community Champions
Published: 15th October 2019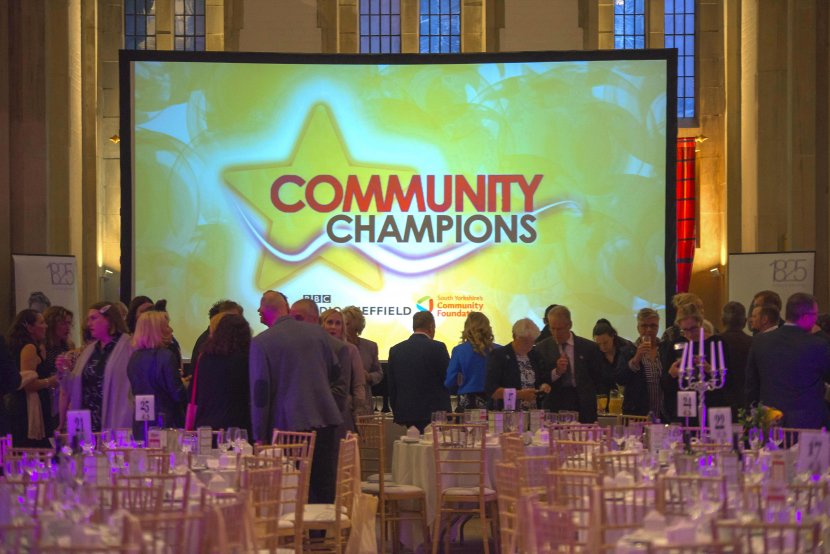 Excited finalists and their loved ones were welcomed into a glistening Sheffield Cathedral, lit by candlelight and adorned with flowers, to receive awards for their work in the community.
The Community Champions Awards were launched earlier this year by South Yorkshire's Community Foundation (SYCF) and BBC Radio Sheffield, to shine a light on the good work being done across South Yorkshire and North Derbyshire.
300 guests attended the awards which were hosted by BBC Radio Sheffield presenters, Paulette Edwards and Toby Foster. With VIP guests including the High Sheriff of South Yorkshire, H.M. Lord-Lieutenant of South Yorkshire and the Lord Mayor of Sheffield - Tony Downing.
Ruth Willis, CEO of SYCF said: "As a local charity which provides grant funding for the benefit of local communities, SYCF sees day in and day out the incredible and humbling work being done all over our region to improve local lives.
"The Community Champions Awards were a way for us to recognise this work and to shout about it. We want to tell these amazing stories and to show all those champions that we are lucky to have, that their efforts do not go unnoticed and are valued.
"One thing we really wanted to achieve was to make the awards night really special. Something that all the finalists would remember. A big part of that was ensuring the winners were given a really unique award that they could take away with them and we think that we achieved that!"
Local business, The Sheffield Assay Office stepped up to craft the amazing awards, which they supplied and engraved. The delighted winners were welcomed to the stage to accept their awards from the awards sponsor before being interviewed by the nights hosts.
The top award 'Outstanding Champion' went to friends Fraser Longford and Jason Cotton who last year set up the group Men-Talk in Chesterfield. The group encourages men in the area to talk about their mental health and meetings have helped hundreds of men who had previously been considering suicide after experiencing it in their own lives.
Picking up his award on the night Fraser Longford said: "It is emotional because it's quite personal. You shouldn't really be celebrating it because I've lost a really close personal friend but at the same time we're saving other people, giving people a chance to speak. So this is really for my mates Paul, Jamie and Dean."
Jason Cotton added: "I'm absolutely elated. It's so humbling the amount of talent and the amount of heroes that are in this room tonight."
Eight awards were given out on the night with two highly commended certificates also awarded for each category:
Young Champion Award - Adil Mohammed from Tinsley in Sheffield
Business Champion - Drone Valley Brewery in Dronfield
Neighbourhood and Environmental Champion - Sahira Irshad from Sharrow in Sheffield
Community Group Champion - Edlington Community Organisation from Doncaster
Health, Wellbeing and Fitness Champion - De Hood Boxing centre in the Manor area of Sheffield
Creative Community Champion - Rachel Horne from Doncaster
Team Champion Award - KickBack Recovery founded by Mick Hartley
Outstanding Champion Award - Frazer Longford and Jason Cotton who started the group Men Talk in Chesterfield.
Ruth Willis, continued: "We hope everyone left the awards feeling elated and uplifted by the heart-warming stories we were able to tell on the night. The good in our communities far outweighs the bad, there are so many Community Champions out there.
"We also want to again recognise the efforts too, of the local businesses and organisations that stepped up to make these awards happen. We are lucky to have so many community minded organisations in our region who see the benefit of awards like these and the good it does for communities."
Katrina Bunker, Editor of BBC Radio Sheffield, said: "It was a wonderful evening in Sheffield celebrating some of our region's amazing community champions. Shining a light on some of the positive work going on to make our local communities better is an important part of what we do at BBC Radio Sheffield. We should all feel proud that so many people around us are doing such great and important work to help local people."
The event came to a close with all of the finalists gathered among the Cathedral's arches for a few last photos. They crowded together smiling and laughing, raised their awards and certificates high, as South Yorkshire and North Derbyshire's Community Champions of 2019.
---
The Sheffield Assay Office was established in 1773, under an Act of Parliament and today the company assays and hallmarks the precious metals - silver, gold, platinum and palladium. Sheffield Assay Office is one of only four UK assay offices who all work to uphold the Hallmarking Act of 1973 and continue to ensure consumer protection for customers purchasing precious metals.
To find out more about the whole range of services offered by Sheffield Assay Office, such as our hallmarking and analytical services, please email us at info@assayoffice.co.uk or complete the contact form on our website at http://www.assayoffice.co.uk/contact-us,
Sign up here to all the latest news from Sheffield Assay Office direct to your inbox