Lord Mayor Tony Downing visits Sheffield Assay Office
Published: 8th November 2019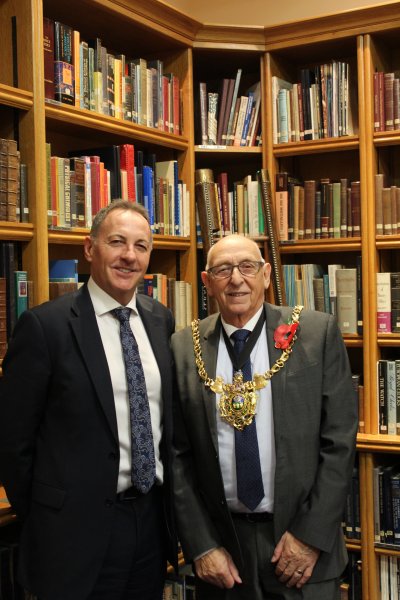 On Friday 1st November, Assay Master Ashley Carson was delighted to host a visit from the 123rd Lord Mayor of Sheffield, Tony Downing.
Lord Mayor Tony Downing has always been a superb ambassador for the Sheffield Assay Office, visiting our stand at Goldsmiths North in July and opening the Sheffield Showcase at International Jewellery London, with the Lady Mayoress Mrs Val Downing, held at Olympia in early September. The Assay Master was pleased and proud to finally show him the premises in Sheffield.
Mr Ashley Carson gave the Lord Mayor a tour of the office and introduced him to members of the team. The Lord Mayor witnessed the assay and hallmarking of four precious metals, Silver, Gold, Palladium and Platinum. A process that has been in operation in Sheffield since the office was established as an Act of Parliament in 1773. The tour was followed by Afternoon Tea in the Library and the Lord Mayor was presented with a hallmarked silver penknife to mark the occasion of his visit.
---
The Sheffield Assay Office was established in 1773, under an Act of Parliament and today the company assays and hallmarks the precious metals - silver, gold, platinum and palladium. Sheffield Assay Office is one of only four UK assay offices who all work to uphold the Hallmarking Act of 1973 and continue to ensure consumer protection for customers purchasing precious metals.
To find out more about the whole range of services offered by Sheffield Assay Office, such as our hallmarking and analytical services, please email us at info@assayoffice.co.uk or complete the contact form on our website at http://www.assayoffice.co.uk/contact-us,
Sign up here to all the latest news from Sheffield Assay Office direct to your inbox