Sheffield Assay Office Guardian recognised in Queen's New Year's Honours List
Published: 8th January 2020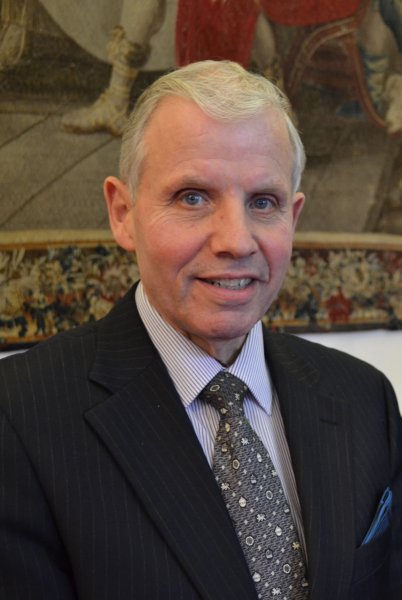 Sheffield Assay Office was delighted to learn that long-standing Guardian, Mr Robert Grice, has been recognised in the 2020 New Year's Honours List for services to hallmarking law with an MBE.
The citation, submitted by the British Hallmarking Council in support of the nomination, outlined Robert's outstanding contribution to the protection of consumers and business through his work for the BHC, the training of Trading Standards departments in hallmarking enforcement, the initiation and development of the Touchstone Award, and how this has successfully raised the profile of hallmarking within the trading standards service.
As well as involving himself fully in his role as Guardian at Sheffield Assay Office, Robert has also published a number of books on hallmarking and trading standards.
In a statement, Robert said "I feel very pleased, and humbled, to have received this honour. I am proud to have been a part of the trading standard's profession for 52 years, and since retiring 14 years ago have endeavoured to contribute to hallmarking as a member of the BHC and Guardian of Sheffield Assay Office.
Hallmarking legislation has offered protection, both for the consumer and legitimate businesses, for almost 1000 years. The touchstone of civilised society is that people trade honestly and deal with each other fairly and this cannot be achieved unless hallmarking laws are complied with. I consider receipt of the award to be an acknowledgement of the TS profession, all CTSI members, and the UK Assay Offices for their essential role in hallmarking and consumer protection."
Sheffield Assay Office Chief Executive and Assay Master, Ashley Carson, said "We are absolutely delighted that Robert has received this very well-deserved recognition of his outstanding contribution to raising the profile of hallmarking and its importance in consumer protection. Having been a Guardian at Sheffield Assay Office since 2003, Robert is highly respected for his passionate and unceasing championing of all hallmarking activities. Huge congratulations!"
---
The Sheffield Assay Office was established in 1773, under an Act of Parliament and today the company assays and hallmarks the precious metals - silver, gold, platinum and palladium. Sheffield Assay Office is one of only four UK assay offices who all work to uphold the Hallmarking Act of 1973 and continue to ensure consumer protection for customers purchasing precious metals.
To find out more about the whole range of services offered by Sheffield Assay Office, such as our hallmarking and analytical services, please email us at info@assayoffice.co.uk or complete the contact form on our website at http://www.assayoffice.co.uk/contact-us,
Sign up here to all the latest news from Sheffield Assay Office direct to your inbox