Sheffield Assay Office Invited to Visit The Royal Mint by the Queen's Assay Master
Published: 24th February 2020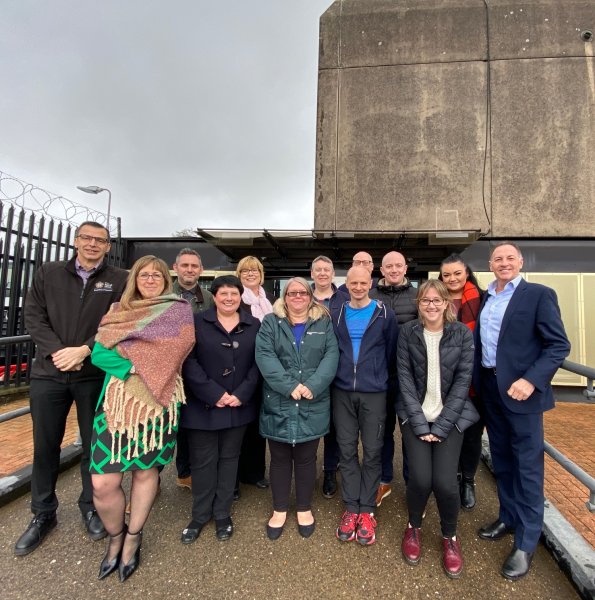 Assay Master, senior managers, and staff enjoyed a visit to The Royal Mint this week following an invitation from the Queen's Assay Master.
Staff were treated to a behind the scenes tour of the world's leading exporting Mint, a truly unique opportunity for all involved.
Following the invitation from Graeme Smith, the Queen's Assay Master and Head of Operations for Commemorative Coin, Bullion and Medals, Assay Master, Ashley Carson took his team to take advantage of the opportunity to see first-hand the home of where all the UK's coinage is produced.
Amy Wright who works in Laser Development said, "The museum part of the tour was really interesting, and the staff in the production areas made us feel very welcome and gave us an insight into their working processes. The amount of coins that are produced per week is unbelievable and they're distributed all over the world."
Laboratory Technician, Tracey Smith was particularly enamoured saying, "I enjoyed every single minute. I couldn't imagine that The Royal Mint produces that amount of coins. I could see a lot of connections between Sheffield Assay Office and Royal Mint since the early days. Amazing trip!"
The team visited The Royal Mint Museum, Laboratory, Collectables Press Room, Tool Room and finished off the day by joining The Royal Mint Experience, where staff were able to produce their own coin.
Colette Bishop of the Laser Marking Department was taken aback at the sheer volume of work produced, "I really enjoyed the visit to the Royal Mint. I found it fascinating and loved having chance to see the manufacturing floors and tool making department. The volume of work they produce is amazing!"
Laboratory Technician, Cheryl Foster was excited to see the established history between The Royal Mint and Sheffield Assay Office, "It was a great visit, exceeded our expectations in all, Royal Mint and the gathering of Sheffield Assay Office staff. The visit to Royal Mint museum was a great surprise. We saw the original Sheffield Assay Office plates to test Ag and Au and the logbook for the Sheffield Assay Office and Royal Mint meeting between 1773-1781."
Assay Master, Ashley Carson said, "The Assay Office has a lot in common with the Royal Mint, precision, control of precious metals and quality of the highest standard."
A complete treat and truly wonderful day out for all.
---
The Sheffield Assay Office was established in 1773, under an Act of Parliament and today the company assays and hallmarks the precious metals - silver, gold, platinum and palladium. Sheffield Assay Office is one of only four UK assay offices who all work to uphold the Hallmarking Act of 1973 and continue to ensure consumer protection for customers purchasing precious metals.
To find out more about the whole range of services offered by Sheffield Assay Office, such as our hallmarking and analytical services, please email us at info@assayoffice.co.uk or complete the contact form on our website at http://www.assayoffice.co.uk/contact-us,
Sign up here to all the latest news from Sheffield Assay Office direct to your inbox