Sheffield Hallam University Students Learn the History of The Assay Office
Published: 14th May 2021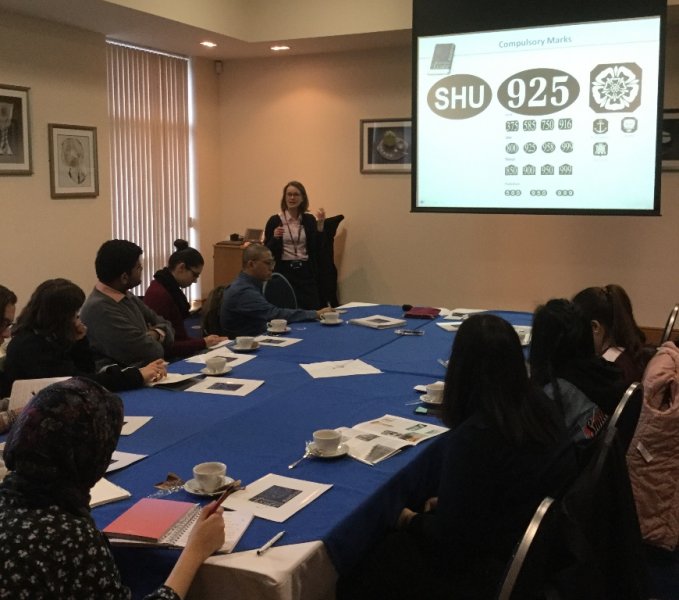 As has been the way for the majority of the year, educational content for students has been delivered online. This year, the annual visit from Sheffield Hallam University's Jewellery, Materials and Design students was no different as the event was held virtually via zoom.
Our Curator, Emma Paragreen, who delivered the online lecture, said "Over the last few years this has become an important part of the course and has benefitted the students greatly. The hour session has provided the students with an overview of the history and work of UK Assay Offices and an opportunity to learn about the process of assaying, hallmarking and the law. This information becomes more important to the students as the course progresses and they begin to design, make and sell their own pieces of jewellery and silverware".
Jenny Hutton, Senior Lecturer and Course Leader said "It was a great talk and the video has been shared with the students. I am sure it will be well viewed!"
For 25 years, Sheffield Assay Office and Assay Master, Mr Ashley Carson have supported the course in a number of ways by supplying materials, providing commission opportunities and awarding prizes. Not only are there these benefits whilst the students are on the programme, they can also use the Sheffield Hallam University (SHU) sponsor mark and have articles marked for free. The final year students are encouraged to make a piece for their degree show and have it assayed and hallmarked at the office. Many students go on to register their own sponsor's marks during the course and many take up registration post-graduation.
Click here to find out more about our Hallmarking services
---
The Sheffield Assay Office was established in 1773, under an Act of Parliament and today the company assays and hallmarks the precious metals - silver, gold, platinum and palladium. Sheffield Assay Office is one of only four UK assay offices who all work to uphold the Hallmarking Act of 1973 and continue to ensure consumer protection for customers purchasing precious metals.
To find out more about the whole range of services offered by Sheffield Assay Office, such as our hallmarking and analytical services, please email us at info@assayoffice.co.uk or complete the contact form on our website at http://www.assayoffice.co.uk/contact-us,
Sign up here to all the latest news from Sheffield Assay Office direct to your inbox