Sheffield Silversmiths Win Prestigious Awards from Goldsmiths Craft and Design Council
Published: 14th June 2021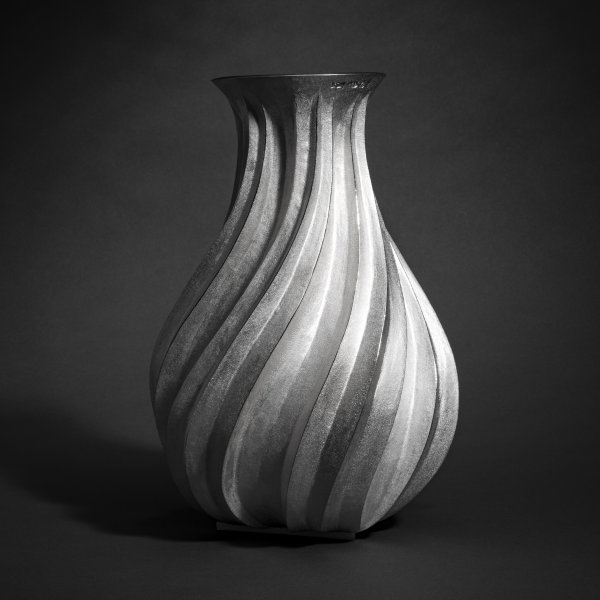 On Monday 17th May in a live stream celebration, the Goldsmiths' Craft & Design Council revealed the winners of the coveted GC&DC Awards.
With 32 categories, covering every aspect of the jewellery and silversmithing trades, Sheffield shone bright as local silversmiths Christopher Perry and Ryan McClean took away a number of well-deserved prizes. Sheffield Assay Office are proud to have Christopher and Ryan as registered customers and it's wonderful to see a Sheffield town mark applied to these wonderful pieces of silverware, huge congratulations to both of them!
In this article, we will take a closer look at Ryan's work, before examining Christopher's in a second, upcoming article.
Ryan McClean submitted the Koch Snowflake Vase to the GC&DC competition and he was up against some stiff competition. The vase is based on a famous fractal, with Ryan creating a sense of familiarity to nature using maths. The Koch Snowflake is the cross section of the vase. Ryan designed the piece on a computer and 3D printed a model, the piece was then raised and chased using the 3D print as a guide. The vase is 280mm in height, made from fine silver and weighs 1.9kg. Ryan was delighted to have been awarded a Gold award in Silversmithing Design, a Silver award in Silversmithing and a Bronze award in chasing, quite an accolade for this designer maker!
Images - Copyright Jerry Lampson
Brian Hill, Consultant for the GC&DC Awards said "The awards have been well received by the industry and all concerned. One obvious gain in having to go virtual, was accessibility, 600 tuned in on the night and more have followed up watching it online. I'm delighted to have your Sheffield lads claiming Awards for their beautiful work and well deserved".
If you missed the ceremony or would like to order a copy of the Awards Annual, click here to visit The Goldsmiths' Craft and Design Council.
To find out more about Ryan's work, visit Ryan McClean Silver.
To find out more about Christopher's work, visit Christopher Perry.
---
The Sheffield Assay Office was established in 1773, under an Act of Parliament and today the company assays and hallmarks the precious metals - silver, gold, platinum and palladium. Sheffield Assay Office is one of only four UK assay offices who all work to uphold the Hallmarking Act of 1973 and continue to ensure consumer protection for customers purchasing precious metals.
To find out more about the whole range of services offered by Sheffield Assay Office, such as our hallmarking and analytical services, please email us at info@assayoffice.co.uk or complete the contact form on our website at http://www.assayoffice.co.uk/contact-us,
Sign up here to all the latest news from Sheffield Assay Office direct to your inbox