Shopping in Style at Goldsmiths North
Published: 21st July 2022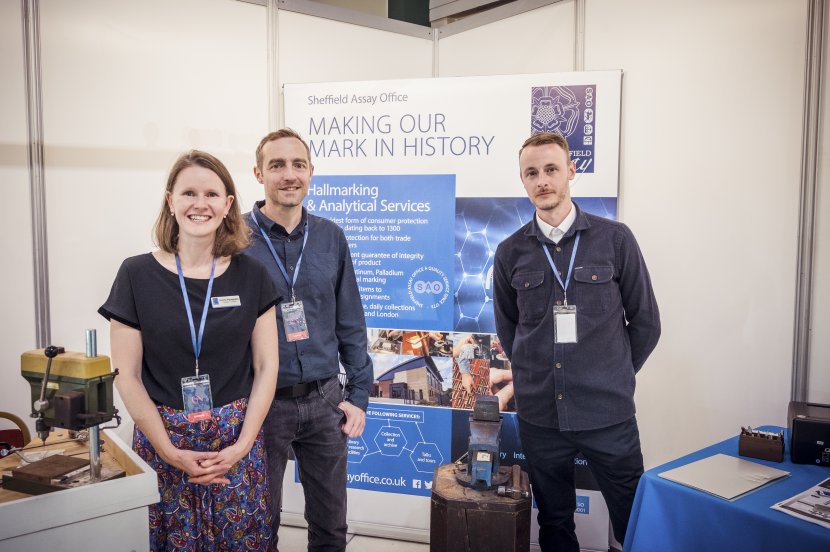 By Kat Payne, Organiser
Goldsmiths North returned to the Cutlers' Hall this month for the first time since 2019 for a glittering weekend of shopping for the finest, latest and best in contemporary silverware and jewellery. We hosted 70 exhibitors from all over the UK in Sheffield's magnificent Cutlers' Hall and welcomed visitors from all over the city, the region and beyond. New this year was the opportunity to observe some of our makers demonstrating their skills in the Old Banqueting Hall where the Sheffield Assay Office offered XRF machine demonstrations and a showcase of silverware, as well as having staff on hand to answer questions about registration and hallmarking. Visitors also had the chance to enjoy a luxury breakfast or a special 3-course lunch in The Dining Room laid on by the Cutlers' Company chef – the same kitchen that serves the famous annual Cutlers' Feast.
After a hiatus of two years, it is very good to be back!
Left to right; Jewellers Clio Saskia and Esther Eyre
Our exhibitors brought us a dazzling range of beautiful work, showcasing incredible craftsmanship, original design and excellent quality, and our visitors brought us their wedding anniversary celebrations, their romantic weekends away, their fascination with beautiful things – and of course, their spending power! We haven't crunched all the numbers yet but we are pleased to announce that takings are up! A lot has happened since we last ran Goldsmiths North in 2019 but it seems that our visitors agree with us that spending more on fewer, higher quality items is the best way to shop – especially when times are hard.
In my introduction to this year's Goldsmiths North Annual, I quoted designer and long-time dressmaker to Her Majesty the Queen, Hardy Amies, who wrote in his memoir, 'Style has heart and respects the past; chic, on the other hand, is ruthless and lives entirely for the present.' I think he is on to something there. Style has an enduring, meaningful appeal that is much more satisfying than the fickle sugar rush of chic. The circus of 'trending' items that vie for our attention these days don't come close to the magical experience of choosing an object of quality that truly suits and reflects who we are. Perhaps it is this element of choice that sets these purchases apart as style, rather than fashion. If fashion is an attitude, buffeted by changing moods around it, style has the confidence to choose for itself.
Left to right; Silversmiths Brett Payne and Bryony Knox
At Goldsmiths North we bring together the very best contemporary makers for our visitors to meet, engage with and buy from. We encourage them to ask our exhibitors for a closer look at anything that catches their eye and if they do find a piece that is particularly special to them – to do the stylish thing and buy it.
If you came to Goldsmiths North this year, we hope you enjoyed your visit. If you couldn't make it this time – not to worry! We have already announced our dates for next year's Fair on our website. Get the dates in your diary now and don't miss out on your ticket to shopping with confidence and shopping in style.
Goldsmiths North 2023
7-9 July
Cutlers' Hall, Sheffield
---
The Sheffield Assay Office was established in 1773, under an Act of Parliament and today the company assays and hallmarks the precious metals - silver, gold, platinum and palladium. Sheffield Assay Office is one of only four UK assay offices who all work to uphold the Hallmarking Act of 1973 and continue to ensure consumer protection for customers purchasing precious metals.
To find out more about the whole range of services offered by Sheffield Assay Office, such as our hallmarking and analytical services, please email us at info@assayoffice.co.uk or complete the contact form on our website at http://www.assayoffice.co.uk/contact-us,
Sign up here to all the latest news from Sheffield Assay Office direct to your inbox