Silver to Shine Again Online - Don Porritt Exhibition
Published: 6th October 2020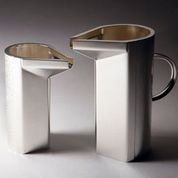 Following the successful showing of Don Porritt's retrospective exhibition 'Silver: light, texture and form' at Butcher Works, Sheffield in October 2019, sponsored by Sheffield Assay Office, there is now another opportunity to see some of the work online and instore at Styles of Hungerford from the 6th October 2020.
Click here to view some pieces from the 'Silver: light, texture and form' exhibition
The 2019 exhibition covered 60 years of Don Porritt's practice and was a tribute to 'Making in the hands of a Master.' A silversmith and designer, Porritt's work invites a dialogue between proportion, space and volume. Working with some of the most resistant materials, Porritt describes a process where he almost breathes the idea into being. Don Porritt has been a registered maker with the Sheffield Assay Office for 54 years and the office are delighted that the pieces of silverware bearing a Sheffield assay mark will be accessible to a wider audience to view.
The pieces are available to view in store at 'Styles of Hungerford' or online by visiting www.styles-silver.co.uk
Styles Of Hungerford
12 Bridge Street,
Hungerford,
RG17 0EH.
---
The Sheffield Assay Office was established in 1773, under an Act of Parliament and today the company assays and hallmarks the precious metals - silver, gold, platinum and palladium. Sheffield Assay Office is one of only four UK assay offices who all work to uphold the Hallmarking Act of 1973 and continue to ensure consumer protection for customers purchasing precious metals.
To find out more about the whole range of services offered by Sheffield Assay Office, such as our hallmarking and analytical services, please email us at info@assayoffice.co.uk or complete the contact form on our website at http://www.assayoffice.co.uk/contact-us,
Sign up here to all the latest news from Sheffield Assay Office direct to your inbox