Supporting Sheffield Steelers Under 14s Girls Football Team
Published: 18th October 2021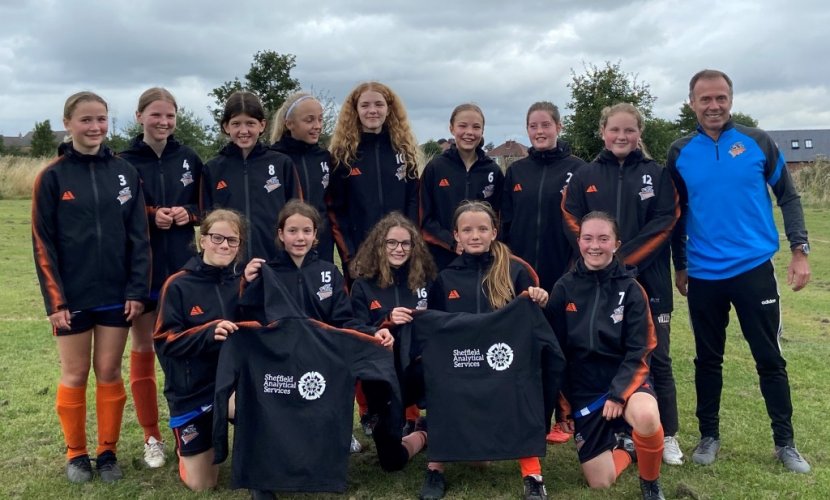 The Analytical Services department here at Sheffield Assay Office recently made a donation to the Sheffield Steelers Under 14 Girls Football Team, enabling them to buy valuable kit for all the players.
The donation has helped the team tremendously and enabled them to purchase much-needed winter jackets for all the players. The winter jackets were donated to the team after a home win (5-1) against Thorncliffe, on Saturday 25th September 2021.
The girls and manager of the team said 'We are delighted to receive the donation and it's a real luxury to have the appropriate kit for training. The jackets will make a massive difference during the cold winter training sessions'.
Everyone here at Sheffield Assay Office was delighted to be able to make the donation and support our local community. We believe that encouraging sporting activity is vital for young people to help them on a route to achieving healthiness.
The Sheffield Assay Office and Analytical Services team wish the girls every success this season!
---
The Sheffield Assay Office was established in 1773, under an Act of Parliament and today the company assays and hallmarks the precious metals - silver, gold, platinum and palladium. Sheffield Assay Office is one of only four UK assay offices who all work to uphold the Hallmarking Act of 1973 and continue to ensure consumer protection for customers purchasing precious metals.
To find out more about the whole range of services offered by Sheffield Assay Office, such as our hallmarking and analytical services, please email us at info@assayoffice.co.uk or complete the contact form on our website at http://www.assayoffice.co.uk/contact-us,
Sign up here to all the latest news from Sheffield Assay Office direct to your inbox