Surprise Surprise! Staff Celebrate Ashley Carson's 30 years as Sheffield Assay Master
Published: 6th November 2023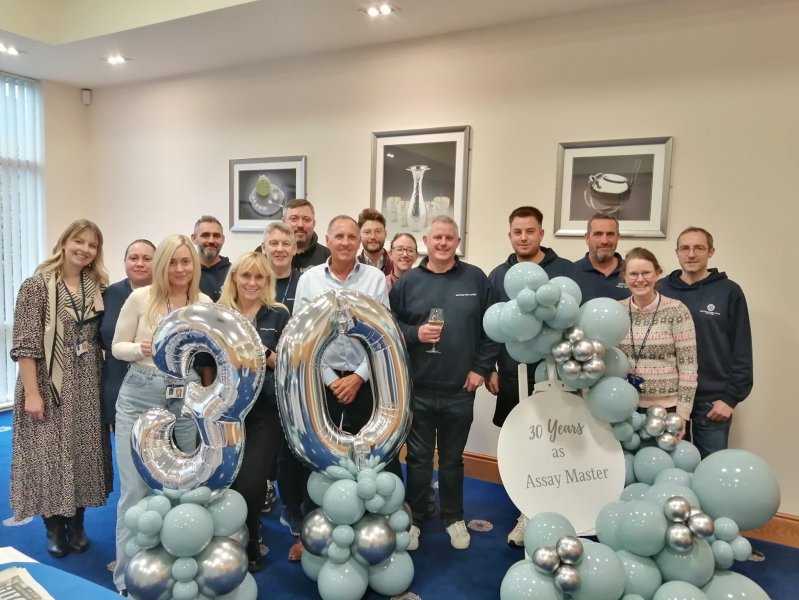 Sheffield Assay Office staff held a surprise celebration party for Assay Master & Chief Executive, Ashley Carson, who recently celebrated his 30th anniversary in the role.
Ashley joined Sheffield Office in 1977 to hallmark Silver ingots during the Silver Jubilee year of Her Majesty Queen Elizabeth II, and after many years of working up through the ranks he was appointed Assay Master on 23rd October, 1993; notably the youngest Assay Master ever to be appointed in the entire 250 years that the Assay Office has existed.
A generous collection was held by staff, who presented the Assay Master with a beautifully crafted Britannia Silver, Ron Carr Silver Ingot, very similar to the ones Ashley himself hallmarked during his very first year working at the Office.
"The event was a total surprise and I am so grateful to all the staff for their extremely thoughtful gift. I have an amazing staff and together we have established Sheffield Assay Office as one of the leading Assay Offices in the world, said Ashley."
The workforce of over 60 joined in to celebrate with the Assay Master, this being the second major milestone at the Office within the month. A huge celebration was held at Sheffield's Cutlers' Hall on 20th October, to mark the 250th anniversary of the date the first mark was struck in the City of Sheffield, with distinguished guests from Sheffield, nationwide and across the industry gathering together to celebrate the event.
---
The Sheffield Assay Office was established in 1773, under an Act of Parliament and today the company assays and hallmarks the precious metals - silver, gold, platinum and palladium. Sheffield Assay Office is one of only four UK assay offices who all work to uphold the Hallmarking Act of 1973 and continue to ensure consumer protection for customers purchasing precious metals.
To find out more about the whole range of services offered by Sheffield Assay Office, such as our hallmarking and analytical services, please email us at info@assayoffice.co.uk or complete the contact form on our website at http://www.assayoffice.co.uk/contact-us,
Sign up here to all the latest news from Sheffield Assay Office direct to your inbox