The Man Behind the Book: Bradbury's Book of Hallmarks
Published: 12th October 2020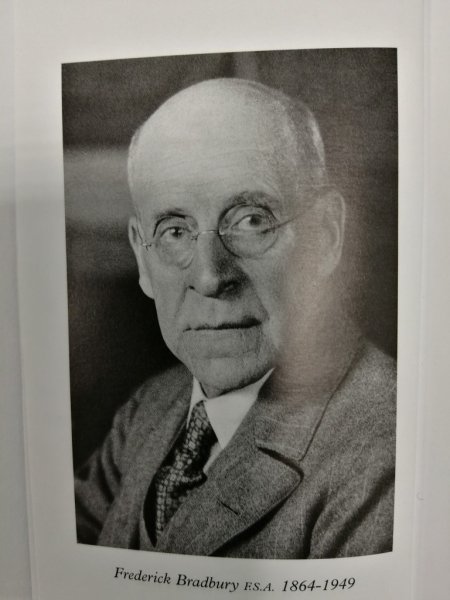 The Bradbury's Book of Hallmarks was originally compiled by Frederick Bradbury (1864- 1949). More than 30,000 copies were sold during his own lifetime and since then the book has been regularly updated and revised. Sheffield Assay Masters' have always taken an active part in helping to maintain the content of the book meaning that the connection between Sheffield Assay Office and Bradbury's is a long and particularly strong one. Daniel Bradbury, the very first Sheffield Assay Master in 1773, was in fact an ancestor of Fredrick Bradbury's and later Joseph, Frederick's brother, became Chairman of The Guardians' of the Standard of Wrought Plate within the town of Sheffield and remained in that post for many years. Sheffield Assay Office continues in the tradition of Bradbury's and safeguarded its future by purchasing it from the Bradbury family in 2007.
Since 2007, the editing of Bradbury's Book of Hallmarks has been undertaken by the Assay Master, Curator, Librarian and Archivist and the general public who undertake new research each year. Their assistance is invaluable and make the book, without a doubt, the most up-to-date and comprehensive reference book on hallmarks and hallmarking available today.
The publication featured in the above photograph is the 36th edition of the Bradbury's Book of Hallmarks, this unique little pocket sized reference book is of great value and provides the reader with the marks of origin on English, Scottish and Irish precious metals, as well as foreign imported silver and gold plate. This edition provides updates to hallmarks and incorporates recent research into duty marks - it also includes details of further marks that will appear on precious metals until 2023.
Purchasing a copy and charges:
If you would like to obtain your own copy, please contact the Sheffield Assay Office Accounts Department on 0114231 8152.
The Charges will be £25.00 for the special edition, hardback and signed by the Assay Master and £15.00 for the standard edition paperback (plus £3.00 postage and packing per book).
ISBN 978 -1- 872212-09-8
Discounts available:
Up to 100 books: list price of £15 plus postage and packing at £3 per book.
100 – 200 books: less 10% discount plus postage to be quoted.
201 plus books: less 20% discount plus postage to be quoted.
A donation from the sale of each book will be donated to the Mary Parsons Charity for retired silversmiths.
Issued by the Editor and Publisher, Sheffield Assay Office, Guardians' Hall, Beulah Road, Hillsborough, S6 2AN
---
The Sheffield Assay Office was established in 1773, under an Act of Parliament and today the company assays and hallmarks the precious metals - silver, gold, platinum and palladium. Sheffield Assay Office is one of only four UK assay offices who all work to uphold the Hallmarking Act of 1973 and continue to ensure consumer protection for customers purchasing precious metals.
To find out more about the whole range of services offered by Sheffield Assay Office, such as our hallmarking and analytical services, please email us at info@assayoffice.co.uk or complete the contact form on our website at http://www.assayoffice.co.uk/contact-us,
Sign up here to all the latest news from Sheffield Assay Office direct to your inbox